ABOUT US
Sigma Chemical Industries was established in 1974 in a designated chemical zone at MIDC Taloja, an industrial hub in the Raigad District of Maharashtra with a manufacturing capacity of 300 metric tons per month of quality product which includes Zinc Chloride Solution 220 metric tons Fluxes 80 metric tons.

Backed by technical experience of more than 3 decades, we have established ourselves as one of the leading manufacturers of best quality Zinc Chloride Solution and Fluxes. Mr. Vijay Kadulkar who is the founder and the Proprietor of Sigma Chemical Industries. Under whose headship we have been scaling new heights in our business endeavors.

To cater to the varying requirements of different industries, we also provide customized compositions of the chemicals as required by the industries. This is Possible due to the in-depth study and experience of more than three decades of Mr. Vijay Kadulkar.
History & Achievements of the Company

We have firmly positioned ourselves as one of the key Manufacturer and Suppliers of Zinc Chloride Solution and fluxes and the excellent quality of our products have won us great appreciation from top manufacturers and suppliers and which is evident from our loyal customer base. We are proud of the fact that we supply best quality Zinc Chloride Solution with all metallic impurities below 5 ppm (Parts per million) i.e. 0.0005% on 100% basis.
Quality Policy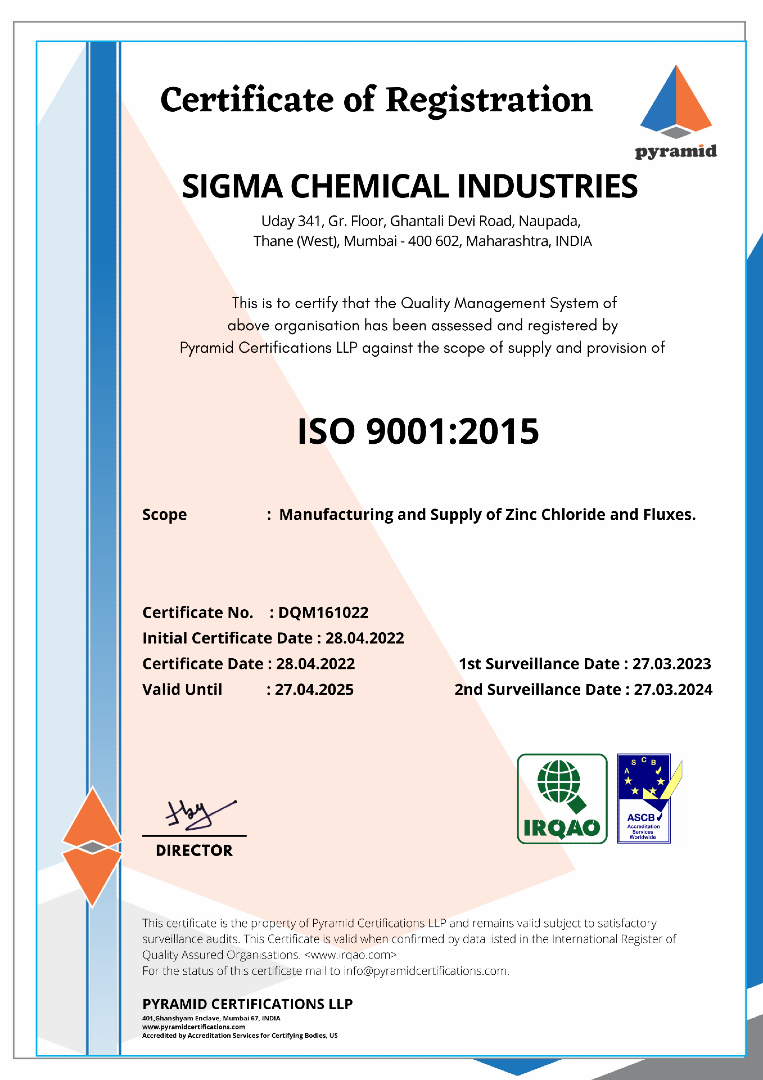 Click Image to Enlarge
At Sigma Chemical Industries, Quality is of the utmost importance. We are an ISO 9001:2015 Certified Company. To maintain our excellent quality we always keep a check on the quality of raw materials received via rigorous testing and no compromise is made in this process. To maintain the quality of the products we test them on following parameters such as:
Several times at crucial stages of the process.
We even undertake a third party analysis in an ISO certified laboratory to maintain our rigorous standards.

Environmental Policy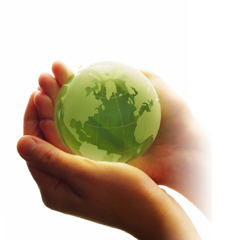 We are proud of the fact that our processes are among the few in the industry which are environmentally friendly. We place safety to our workers at paramount importance and so we have tailored our processes accordingly.
At Sigma Chemical Industries we have
Effluent treatment plant (ETP)
to treat our effluents and washings, where the effluent is neutralised and the pH is adjusted to universal standards from where it is sent to the Common effluent Treatment Plant (CETP) of MIDC for further treatment.
Even the chemical waste of our Industry is disposed to Mumbai Waste Management Company which properly treats the waste before disposal. We are also registered with the
Central Pollution Control Board (CPCB)
and the
Maharashtra Pollution control Board (MPCB)
which undertake periodic checkups.

Aim

Objective